Welcome to Cabin On the Lake, home of Little Bitty Paws where we strive to raise beautiful, healthy and well-tempered Cairns and Westies to be "forever" companions to their new families. Friendly, sturdy, fun-loving and adventurous Cairns and Westies make wonderful family pets.
We are proud to share that we are an AKC inspected and approved kennel.
All of our puppies are from AKC registered parentage and many have champion bloodlines.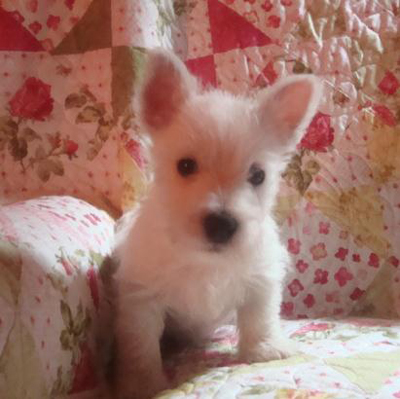 Our puppies are vet checked at six weeks of age and receive their first shot and several wormings. We also give our puppies immune-boosting vitamins called Nu-Vet which are essential for proper growth and development. It would be very beneficial for your puppy to continue these vitamins. We truly believe they are significant in reducing and preventing many of the health issues that our pets are facing today. Be sure to check out our Nu-Vet link to learn more about the best supplement available to provide immune system support.
Email us at connie@littlebittypaws.com